1 2017, United Concordia Dental internal research and reports.
COVID-19 Information
COVID-19 Treatment and Your Oral Health
This article explains how COVID-19 affects and how it relates to your Oral health.
Dental Distancing Infographic
This infographic provides guidance on how to maintain oral and overall health during the COVID-19 pandemic and beyond.
Additional Information
If you'd like more information on maintaining good oral health and program updates, check out the TDP's suite of quarterly Dental Health Matters newsletters.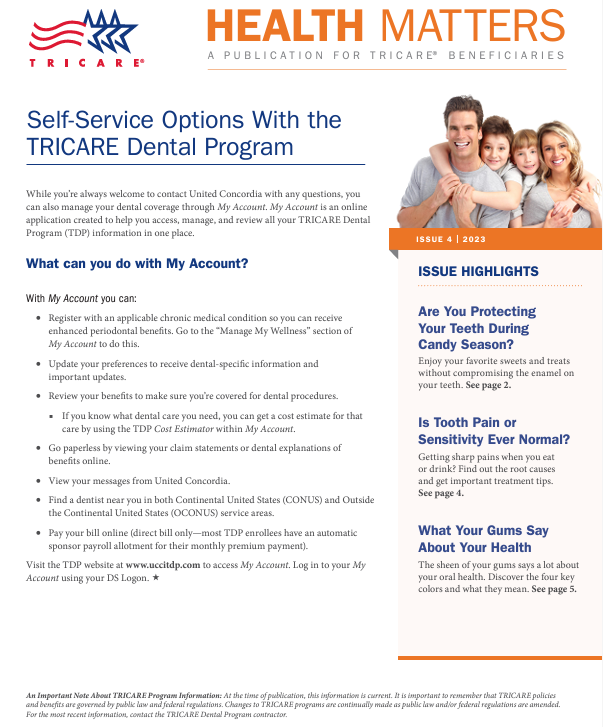 Need assistance finding a dentist? Use our Find a Dentist feature.
Get to Know TRICARE
Healthy gums and teeth are key to a healthy smile and your overall wellness. Brush up on your oral hygiene and learn more about your TRICARE Dental Program benefits with this TRICARE beneficiary podcast, called "Keeping Your Mouth Healthy."
You can listen with the options below:
Apple Podcasts: https://podcasts.apple.com/us/podcast/get-to-know-tricare/id1559967246
Spotify: https://open.spotify.com/show/7xNMATIZqJ2bIif1SSSxKs
Wellness Fact Sheets
Our suite of wellness fact sheets provides resources for enrollees with questions about how oral health impacts their overall wellness and provides tips on how to properly care for your teeth. You can read about oral health as it impacts your specific chronic condition or learn about oral wellness in general.