TRICARE Dental Costs
The TRICARE Dental Program is an affordable option for eligible beneficiaries. With Government-shared premiums and cost-shares, you get the most coverage for minimal out-of-pocket costs.
Cost-shares vary depending upon the sponsor's pay grade. A breakdown of cost-shares and premiums is available in the sections below.
Premiums
Your TRICARE Dental Program monthly premium is determined by the sponsor's military status (Active Duty, Selected Reserve or Individual Ready Reserve [IRR]) and your enrollment plan (single or family).
For enrolled active duty family members (ADFMs), Selected Reserve and IRR members in the Special Mobilization category, the Government assumes 60 percent of the cost of your TRICARE Dental Program premium while you pay 40 percent. IRR members in a category other than Special Mobilization, and all Selected Reserve and IRR family members, are responsible for the full amount (100%) of the monthly premium cost.
If the military status of your sponsor changes during TRICARE Dental Program enrollment, your enrollment plan will automatically be updated accordingly.
Premium Amounts
Your TRICARE Dental Program premium amounts change annually on May 1st.
The following chart indicates your monthly premium responsibility for the enrollment periods of May 1, 2022 - April 30, 2023 and May 1, 2023 - April 30, 2024.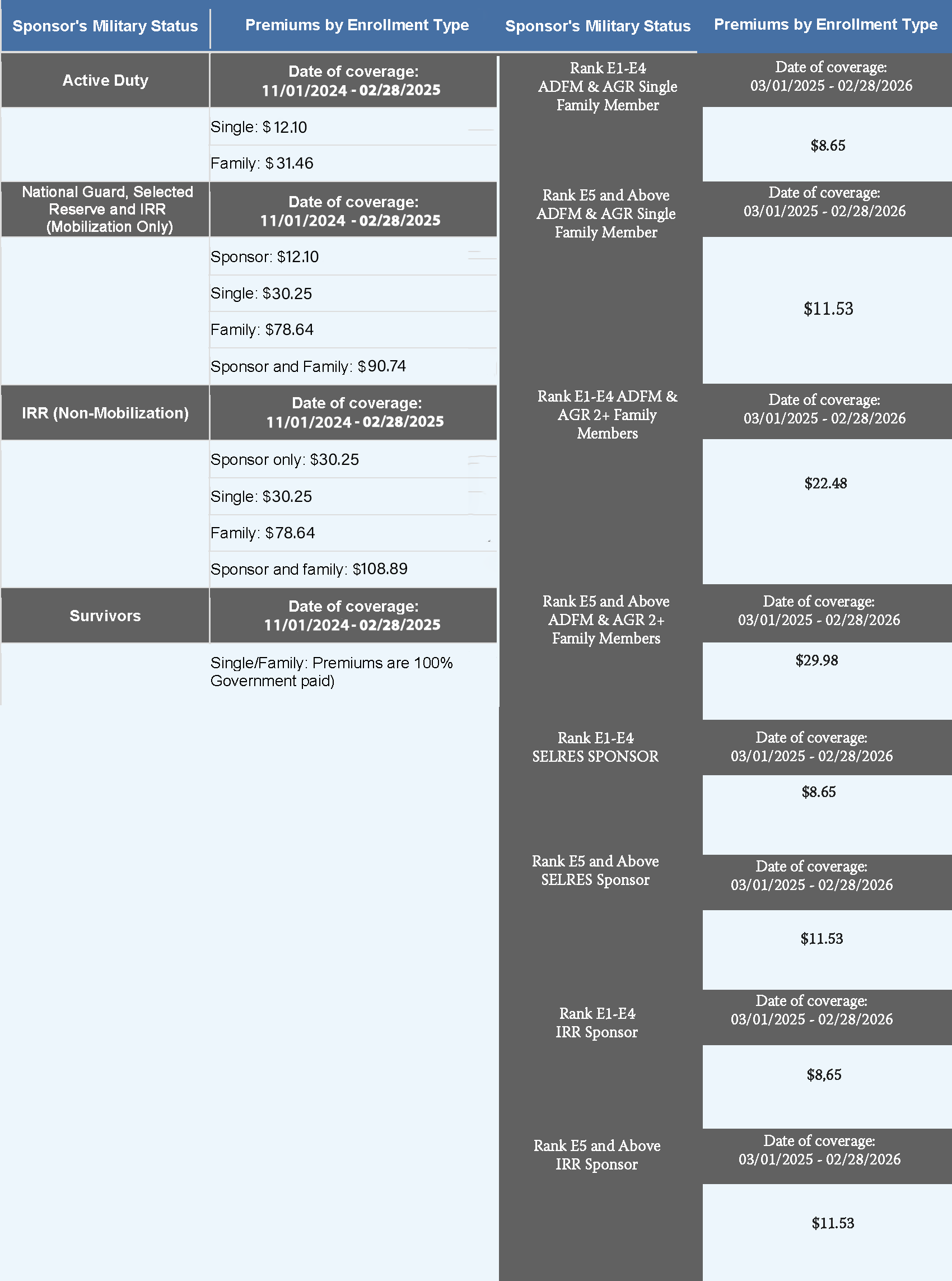 Premiums are paid on a monthly basis and must be paid in full. There are no circumstances when a partial premium can be paid. If you fail to pay your premiums during the mandatory 12-month enrollment period, the Government will not pay any portion of the premium for the remaining months. Failure to pay the required premiums may result in referral of the account to a collection agency.
Paying Your Monthly Premiums
Initial Premium Payment
You'll make your first premium payment (for the first month of coverage) when you enroll.
If you enroll online, please use a credit card
If you enroll through the mail, please pay with a credit card, check or money order. Include your sponsor's Social Security Number or DoD Benefits Number in the memo area when paying by check or money order.
Automated Recurring Payments
The following types of ongoing automated payments are acceptable:
Allotment

You can set up an allotment for your recurring premium payment if your sponsor has a military payroll account and sufficient funds are available

Electronic Fund Transfer (EFT)
Credit/Debit Card
It's easy to set up recurring payments:
If you enroll online, you can set up any of the recurring payment types listed above at the same time.
If you enroll by mail, complete Section IV of the TRICARE Dental Program Enrollment Form

For credit or debit cards include the type of card, card number, expiration date and security code. Remember to sign the form
You can also set up recurring payments at any time by logging in to My Account and clicking the "Billing" tab.
Regular Monthly Payments
You can also elect to pay your bill monthly by choosing that option during enrollment. Monthly payments can be made by regular mail or online with a credit or debit card after logging into your account.
If you don't pay your monthly premiums, your coverage will end. If your coverage ends, you won't be able to re-enroll for one year.
View your cost share by visiting the What's Covered page
Benefits of Using a Network Dentist
Visiting a United Concordia TRICARE Dental Program network dentist means…
You have access to an extensive network of dentists – With office locations across the country, whether you're home or away from home, finding a network dentist takes only a phone call or mouse click.
You save money – Because there is no deductible and our network dentists accept our negotiated fees or "maximum allowable charges" (MAC) as payment-in-full for covered services, your out-of-pocket expense is lower. This means no balance-billing for you. See the sample savings chart below.
You save time – Network dentists agree to file claims so it's one less thing for you to worry about.
You stretch your benefit dollars – Paying less for care from a network dentist lets you receive more covered services before reaching your annual maximum.
You enjoy peace of mind – All network dentists undergo rigorous review through our quality assurance process and routine verification of their credentials.
You are in-the-know – Upon your request, our network providers will submit predeterminations before performing a procedure. So you can know up front if the treatment is covered and how much you can expect to pay out-of-pocket.
See what you can save…
Potential Savings1 for an average individual dental visit with TRICARE Dental Program coverage when using an In-Network Dentist vs. an Out-of-Network dentist
Service
Without Coverage You Pay
In-Network2
Out-Of-Network
You Pay
Your Savings
You Pay
Your Savings
1 adult cleaning (D1110)
$152
$0
$152
$74
$78
1 exam (D0120)
$85
$0
$85
$45
$40
1 set of bitewing x-rays (D0272)
$121
$0
$121
$65
$56
1 filling (amalgam) (D2140)
$250
$25
$225
$152
$98
1 crown (D2752)
$985
$258
$727
$727
$258
Total
$1,593
$283
$1,310
$1,063
$530
1 - For illustrative purposes only. Savings shown do not account for premium cost. Savings will vary by dentist, service and geographic region. Sample charges based on Pennsylvania ZIP Code 17110 as of August, 2016.
2 - Assumes all services are performed by a United Concordia TRICARE Dental Program Network dentist.